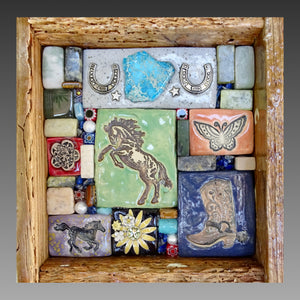 Natureheart Clay Creations
Horse Lover's Mini Mosaic
Regular price
$65.00
$0.00
Unit price
per
One-of-a-kind mixed-media mosaic made from: handmade tiles of two types of clay (high-fire ceramics and polymer), glass beads and tiles, natural and semi-precious stones, and recycled jewelry. Frame is handmade from recycled crab or lobster traps that were pulled from the waters off the Florida Keys, giving the wood a unique rustic look that can only come from being naturally aged in saltwater and sun. 
This piece comes with a hook mounted on the back for hanging. Because the frame is so wide, it will also stand up on its own on a shelf.  
Exterior frame measurements (height x width x depth, in inches): 5.25 x 5.15 x 1.5"
---